In a culture of research and innovation for the development of socially responsible entrepreneurship, ACI experts develop workshops combining their expertise.
Opening new avenues, they encourage the interactions, research and collaborative work, information sharing and experimentation, specialized articles and book editions.
WORKSHOP


«ENTREPRENEURSHIP IN AFRICA»
Sustaining emerging growth
Better understand the social and economic changes affecting the development process, entrepreneurship and of fair trade in African territories.
Some themes of reflection and research:
• Structural change and economic dynamics
• Supply capacity to participate in the international trade
• Entrepreneurial success in Africa
• Rediscovery of cultures and of local products
• Best possible uses of international cooperation
WORKSHOP


«INTERNATIONAL TRADE DEVELOPMENT»
Relevant answers to challenges posed by globalization
Follow the international success of entrepreneurs who base their action on the creation of meaning and human values, and also the best practices in public organizations, to promote foreign trade.
Some themes of reflection and research:
• SMEs and export
• Partnership for internationalization
• New expectations from external markets
• Fair Trade as an economic model
WORKSHOP


«SOCIAL AND SOLIDARITY ECONOMY»
Fostering a culture of research and social and societal innovations
Understand and validate the diversity of socially responsible organizations in the field of social and solidarity economy.
This workshop explores the innovative socio-economic models that can be enhance from a local to an international level. It also develops investigative and know-how transfers tools.
Some themes of reflection and study:
• The social and community entrepreneurship
• Creating values and sustainable human development
• Build cooperation
• Accompanying SSE projects
WORKSHOP


«INNOVATIVE FINANCE»
Encourage investment having positive impacts
Promote the funding of promising projects that make sense, also access to finance for small and medium size businesses around the world, investment of positive impacts, support the fight against climate change, solidarity financing...
Some themes of reflection and study:
• Reconciliation of banks and SMEs in emerging markets
• Financing Sustainable Development
• Changes in the micro-finance
• Innovative financing (solidarity, climate, etc.)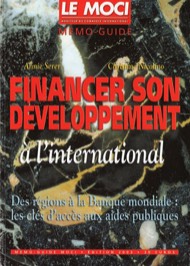 FINANCE YOUR INTERNATIONAL EXPANSION
Authors: Christine Nicolino & Annie Serer
From the World Bank to regional funding sources
Éditions Le MOCI (2003)
Keys to accessing Public funding for international business and projects. Identification of national and multinational financial players, programmes and modes of operation.
This publication can be ordered on the Internet here.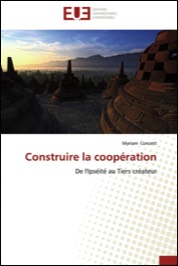 BUILDING COOPERATION: FROM ISPSEITY TO A CREATIVE THIRD PARTY
Author: Myriam Conzett
Étude universitaire sur le processus d'éducation coopérative des adultes en formation, réalisée à partir de deux accompagnements individuel et collectif par la Recherche-Action. Ce travail s'adresse à tous et notamment aux accompagnateurs de projets, manageurs, enseignants, chercheurs, sociologues, thérapeutes ou entrepreneurs. L'auteure approfondit les fondements du processus de construction d'un savoir agir coopératif.
This publication can be ordered on the Internet at here or there.